User State Migration schlägt fehl – DismApi.DLL fehlt
Problem: Während einer ConfigMgr 2012 R2 Task Sequence crashed das User State Migration Tool (USMT) mit einem Fehler, weil die DismApi.DLL nicht auf dem Zielrechner vorhanden ist: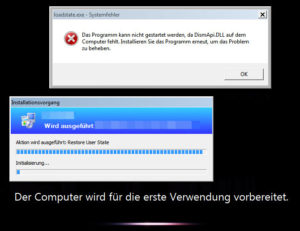 Lösung: Die fehlenden Dateien müssen in das USM Package kopiert werden.
Diese sollten sich auf dem dem Server mit dem installierten Windows Assessment and Deployment Toolkit (ADK) befinden, normalerweise unter %programfiles(x86)\Windows Kits\10\Assessment and Deployment Tools\amd64\DISM (für 64bit).
Die dann in den Source Ordner des USM Package kopieren und dieses dann im ConfigMgr neu einlesen.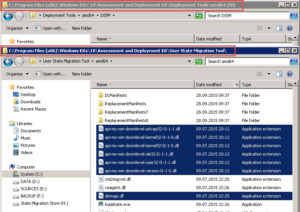 Folgende Dateien müssen kopiert werden:
dismapi.dll
api-ms-win-downlevel-advapi32-l1-1-1.dll
api-ms-win-downlevel-kernel32-l1-1-0.dll
api-ms-win-downlevel-kernel32-l2-1-0.dll
api-ms-win-downlevel-ole32-l1-1-1.dll
api-ms-win-downlevel-user32-l1-1-1.dll
api-ms-win-downlevel-version-l1-1-0.dll
Siehe Microsoft KB3084782